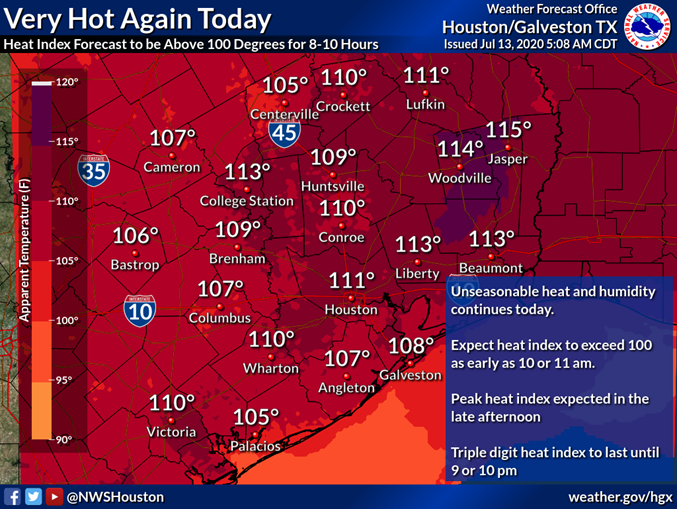 Here's the latest from the National Weather Service in Houston/Galveston:
Our relentless stretch of dangerous heat continues. A heat advisory is again in place from 11 am to 8 pm today, with several hours of triple digit heat index values. Peak forecast heat index will again be up to around 110°.
The heat wave carries on, with another day of dangerous heat ahead. Much of the area is beginning the morning with temperatures around 80° and a heat index in the 80s, but things will escalate rapidly after sunrise this morning.
Look for the heat index to exceed 100° area-wide by 10 or 11 am, and will not drop below 100° again until late this evening. The maximum heat index will come in the late afternoon (around 4 pm or so) with a peak in the vicinity of 110°.
Extended Outlook
Unseasonable heat will stay with us through the week. Fortunately, yesterday and today will likely signal the peak intensity of this hot stretch. Unfortunately, improvement this week will be very slow, and heat levels will remain dangerous for several more days. Heat advisories may be needed for more days this week.
Take Precautions
Limit any time outdoors, especially during the afternoon
Check your backseat for any pets or children
Check in with your neighbors, especially the elderly
Drink plenty of water to stay hydrated
Wear sunscreen and light clothing