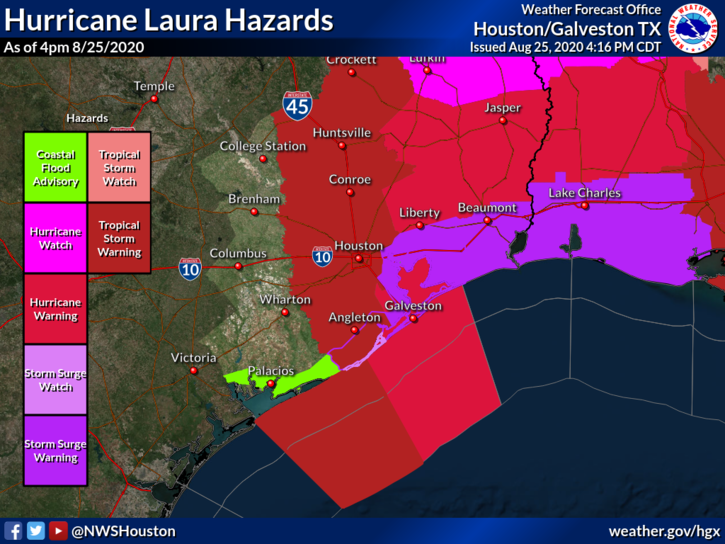 Hurricane Laura continued its march toward the upper Texas and Louisiana coasts on Tuesday amid predictions that the storm will intensify to a Category 3 hurricane by the time it makes landfall on Wednesday night or Thursday morning.
As of 4:30 p.m., Brazos County had not been included in official hurricane or tropical storm warnings, but that doesn't mean we're necessarily in the clear. Storms like this can change direction quickly, and the storm itself is moving at a rapid pace. That means stronger winds will be felt further inland than with typical tropical systems.
The latest prediction is for Laura to make landfall along the Texas-Louisiana border, but a slight shift to the west could put us right in its path. Now is the time to stay vigilant and monitor local weather updates and alerts about this potentially major hurricane.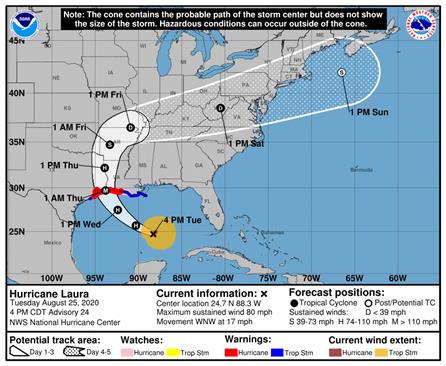 Shelters Opened in San Antonio, Austin, Dallas area
Shelters have been opened in three major metropolitan areas to take in evacuees fleeing Hurricane Laura. There are no general public shelters open in Brazos County at this time.
Here's a list of Evacuee Reception Centers:
San Antonio
254 Gembler Road
San Antonio, TX 78219
(Open at 3 p.m. on Tuesday, Aug. 25)
Austin
Circuit of the Americas
9201 Circuit of the Americas Boulevard
Austin, TX 78617
(Open at 4 p.m. on Tuesday, Aug. 25)
Dallas / Fort-Worth
Mesquite Reception Center
15515 E. IH-20
Mesquite, TX 75181
(Opened at 7 p.m. on Tuesday, Aug. 25)
Ellis County / North Texas
Knights of Columbus Hall
850 S IH-45
Ennis, TX 75119
(Open at 7 p.m. on Tuesday, Aug. 25)