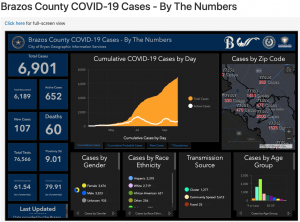 In collaboration with the City of Bryan Geographic Information System (GIS) team, the Texas A&M University Office of Safety & Security, and the Brazos County GIS Coordinator, the Brazos County Health District has launched a new COVID-19 dashboard. This is an effort to be as transparent as possible so that the community has access to timely, accurate, and dependable information regarding COVID-19 in Brazos County.
The user friendly dashboard is updated daily and displays information about confirmed and probable cases, testing information, cases by zip code, and case and death demographics.
"The health district is extremely appreciative of the collaborative effort to launch this new dashboard," said Brazos County Health District Director, Santos Navarrette, Jr. "The dashboard allows our community to stay informed through up-to-date COVID-19 information."
The dashboard is displayed on the Brazos County Health District's website at www.brazoshealth.org/covid19-dashboard.